Retail Mobile Scanners and Tablets
ECS5 is a cloud-based retail management solution that streamlines the way stores control their digital signage displays and manage their messaging. With a built in Media Manager and easy to use digital signage players, ECS5 can transform store efficiency and the customer experience without the need for expensive IT oversight or external creative agencies.
With ECS5's flexible control of digital signage across multiple locations, businesses can quickly execute new promotions and retail signage strategies in response to competitors.
---
The ECS5 Multimedia Suite | Intuitive Digital Signage Solutions
The ECS5 Multimedia Suite allows organizations to create and send live and dynamic content to digital signage devices in stores, enabling you to display attractive, informative, and interactive messaging.
The Media Manager is used to create and update dynamic video content quickly and distribute it to TV screens and digital video signs in store.
As this uses the same design suite as other forms of signage within ECS5, all information presented is accurate and organizations are able to create content themselves without having to wait and invest significantly in an external studio to do this for them.
Retailers are able to react quickly to market competition and market trends, immediately changing their video content to stay ahead of the competition. Any change made at head office is instantly reflected on the devices in store.
---
ECS5 Digital Signage Players | The Best Media Player for Digital Signage
The ECS Media Players are an innovative and economic option for organizations who are looking to utilize TV screens and digital video signage within their stores.
Each ECS Media Player is able to be linked to one screen of any size, and run dynamic content, such as videos, store information, and promotions, on a cycle set up through the Media Manager.
The key specifications of the ECS5 Media Player:
HDMI ready
95mm x 60mm x 32mm dimensions
Wi-Fi or wired connection
Plays MP4 files, H.264 encoded
Comes with 24×7 support for 5 years
Centrally managed, updates are controlled and scheduled within the Media Manager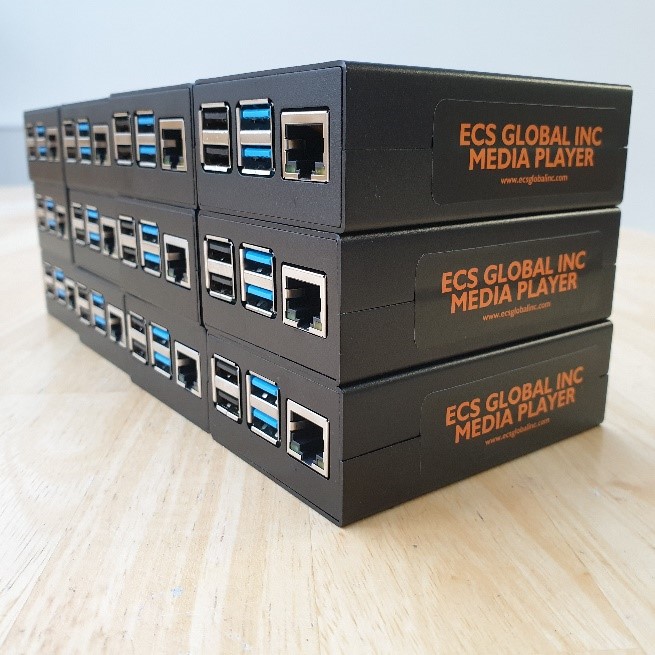 ---
The use of ECS5 Multimedia Suite provides a much more engaging and interactive communication experience for customers, which will in turn lead to increased sales and better conversion rates.
The HD digital signage players from ECS5 can drive a variety of display types, including:
TVs
Commercial displays
Videowalls
Interactive displays
Electronic signage boards
Outdoor video displays