Global Communications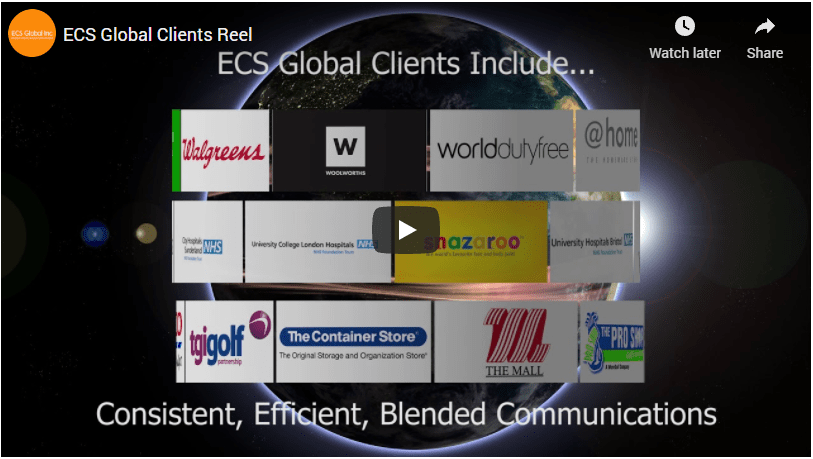 ECS is a global company that provides integrated solutions that allow our clients to consistently communicate any message or information in any language through a variety of platforms and media, all from one place.
The solutions we provide at ECS Global Inc. are used worldwide by businesses in the Americas, Europe, Middle East, Africa, Asia, and Australasia.  Our goal is to help organizations improve the way they engage with their customers and employees.  Communicating in the right place, at the right time, using the right media is about consistency through all messaging, to create a seamless customer experience.
The solutions we provide enable you to control all areas of communication using one simple and exciting product, fully integrated with your existing infrastructure to create a hassle-free and cost-effective experience.  We work across a number of major industries where clients, organizations, and regulators demand accurate, consistent, meaningful, and attractive communications.
Enterprise Communication Suite™
Many businesses use multiple individual software systems to manage their communications where nothing is joined up, consistent, or enforcing strong quality branding.  This is an inefficient and costly way to manage communication and branding.
The Enterprise Communication Suite™ (ECS5) enables organizations and businesses to bring together all of their communication channels within one solution, using one intuitive design rather than multiple individual systems.  With this system, you can provide consistent impactful communications to your target audience whether in a physical location, such as a retail store, bank lobby or hotel, and externally via traditional advertising, social media, newspapers and magazines, telephone, catalogs, multimedia, electronic signage, internet, and smartphones.
Contact Us to Learn More About ECS5
ECS5 is an ideal solution for retail stores that combines joined up communication with in-store operational efficiencies, and it can also be used in healthcare, academia, resorts, stadiums, transportation sites, banks, and more.
With ECS5, businesses can manage their high impact colorful point of sale, digital signage, product labeling, handheld terminals, portable devices, advertising, and shelf edge labeling all within one system.
Businesses can efficiently update information such as prices and promotions within ECS5 and the updates will be sent instantly to all integrated media.  This will keep your branding, messaging, and pricing accurate, consistent, and up to date in an efficient and cost-effective manner.
Derek Buchanan, CEO of ECS Global Inc. commented, "I have witnessed a number of examples in Retail where the integrity of promotions is flawed.  Promotions can often be poorly executed and are out of date.  Even scenarios where the check out prices are different from those at the shelf edge or that are on promotion. It just doesn't have to be that way.  There are solutions, such as  ECS5 that are out of the box and can ensure all your messaging is joined up and none of the things above need to happen."
Our solutions remove inaccuracies and inefficiencies.  We will save your business time and money and increase your sales and margin.
We have a Client Touch and Experience Consultancy Program™ that can help you establish how you wish to engage with your clients, at what frequency, and via which method.
Contact ECS Global Inc. to learn more about how our Enterprise Communication Suite™ can help your business better manage your branding and messaging.
Our ECS solution has recently been audited by independent retail analysts in the U.S. and Australia, as you will see in the below video.