RFID Barcode Readers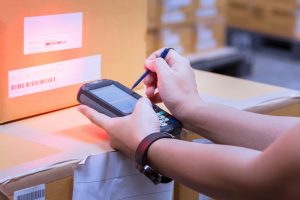 RFID (radio-frequency identification) is a technology that is becoming more widely used in various industries and is sometimes seen as an alternative to using barcodes.
RFID barcode readers work by using radio waves to transmit information from RFID chips to the readers or scanners.  RFID is more accurate and secure than traditional barcodes, and it takes less time to scan RFID chips which will cut down on labor and save your company money.
Like with a barcode system, RFID systems consist of mobile scanners and readers that are powered by software.  Retail stores, warehouses, pharmacies, and others use RFID technologies for various tasks, including accepting orders, checking stock, price checks, inventory management, and checkout scanning.
ECS Global Inc. offers a single solution that can integrate all of your RFID barcode readers. With ECS5, you can integrate all of your mobile barcode scanners already in use which allows them to instantly access all of your pricing and inventory information.  This helps ensure that all of the information and data being accessed via RFID is consistent and accurate across all of your devices.
If your business uses RFID technology to manage inventory, all of your RFID tags and readers can easily become integrated within ECS5.
You do not have to change the infrastructure of your RFID system and it can be integrated with other systems in use, including traditional barcode scanners, digital signage, and shelf labels. All of your RFID barcode readers will be able to access data and information pertaining to your inventory including planograms, pricing, and stock.
With access to the same cloud stored information, there will be no inconsistencies or discrepancies between RFID scanners.  Changes in the data can also be accessed by RFID readers instantly, keeping the information up to date.
ECS Global Inc. has helped implement ECS5 for businesses and institutions around the world and we offer international, multilingual support.  Talk to our professionals at ECS Global Inc. for more about ECS5.
Contact Us to Learn More About ECS5
---
Related Devices for ECS5
Digital and mobile devices
Digital signage players
Electronic signage
Mobile devices for retail
Communication solutions