Enterprise Communication Suite™
We understand the journey that consumers make in stores as they process multiple messages in their search for desired items.  This may include messages from kiosks, colorful point of sale signage, and electronic shelf tags in store as well as website coupons, email, and social media outside the store.
At minimum, customers expect consistency in messaging and pricing in retail across media.
At ECS Global Inc., we can help retail stores and other businesses seamlessly manage their messaging across all media through our Enterprise Communication Suite™ (ECS5).

The Enterprise Communication Suite™ is a retail point of sale system (POS system) that enables multi-channel retailers to communicate the right promotional messages to their customers at the shelf edge and point of sale.
The communications hub enables businesses to send consistent messaging via interactive kiosks, multimedia, electronic signage, email, electronic shelf edge labels, and other media within a single system.
The Enterprise Communication Suite™ (ECS5 system) is an efficient and cost-effective retail POS system that is used in 25,000 stores, small and large, throughout the world.
Contact Us to Learn More About ECS5
Features of the Enterprise Communication Suite™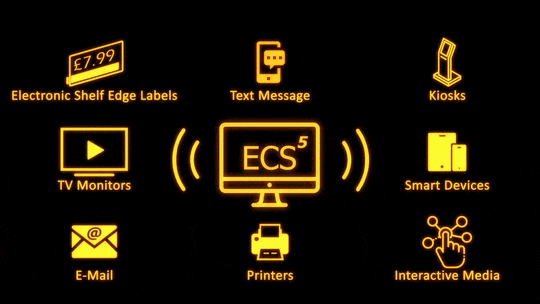 The Enterprise Communication Suite™ POS software is a complete retail solution that manages the information that flows from the head office to the customer.  This system combines all of the media your business uses for communication and integrates seamlessly into your existing infrastructure.
Our POS software systems guarantee consistency of messaging and accuracy of information delivered in a timely and efficient manner.
The following are the main features of our ECS5 retail POS system:
Create labels, tags, and signage in one place: Within the ECS5 system, you can manage the creation of shelf tags, labels, promotional signage, and other similar labels and signs that reflect current pricing and promotions. When a price changes within the system, you can use the software to quickly design and print new tags and signage.  Digital signage and electronic shelf-edge tags are updated automatically.
Manage planograms: The ECS5 system integrates the planogram for your store which allows for efficient and accurate price tag printing. You can also design your planogram, manage inventory, and identify areas of your planogram with less sold items so you can attract more foot traffic to these areas.
Automate printing of signage and labels: The technology within our retail software solutions can automatically print signage and tags for items in stock and suppress the production of signage and tags for items that are not in stock. This is an intuitive element of the system that takes care of itself.
Manage digital media: The ECS5 system includes an integrated Media Manager that allows you to create digital signs and video content using various types of media including jpegs, image files, and videos. The design suite within the Media Manager makes it possible for you to create content quickly and easily and automatically distribute it to TV screens and digital signs within your store.
Integrate other devices: The ECS5 system harnesses mobile technology that can be used on Android and iOS mobile operating systems. You or your employees can access the system from any device or computer, and you can also integrate devices like handheld scanners, printers, PCs, and kiosks into the system.  Your staff no longer has to go to a central office location to access the system and do things like print signs and labels.
The following are the main benefits of our ECS5  cloud-based retail management software:
Promotions and price changes can be applied within your store within minutes.
Efficient management of promotions and price changes can help you compete with your competition.
Reprinting lost or damaged price tags is quick and easy. They are only printed for items that are currently in-store to cut down on waste and they can be printed on perforated paper.  The price tags are also printed in the order of the planogram which saves time putting them up.
All signs including PLU and promotional signs can be printed quickly and efficiently using templates within the ECS5
Access to full compliance reporting.
The ECS5 system gives you the ability to handle many in-store tasks quickly and efficiently which will save time and money while cutting down on waste.
The ECS5 system also allows you to deliver your messaging to your target customers externally via email and social media.
Industries That Use ECS Software
Our POS software is used across industries all over the world.  ECS Global Inc. works with the following industries:
ECS Software Solutions
Our software solutions, including the ECS5 system, have helped businesses throughout the world in many different industries streamline their messaging to help improve customer engagement and sales.
Our systems can be integrated into your existing infrastructure and allow you to deliver a consistent message across all media from one place.
Contact ECS Global Inc. to learn more about our Enterprise Communication Suite™ options.
---
Related ECS5 Features
Planogram software
Digital signage solutions
Electronic shelf labels
Promotion planning
Mobile and digital devices