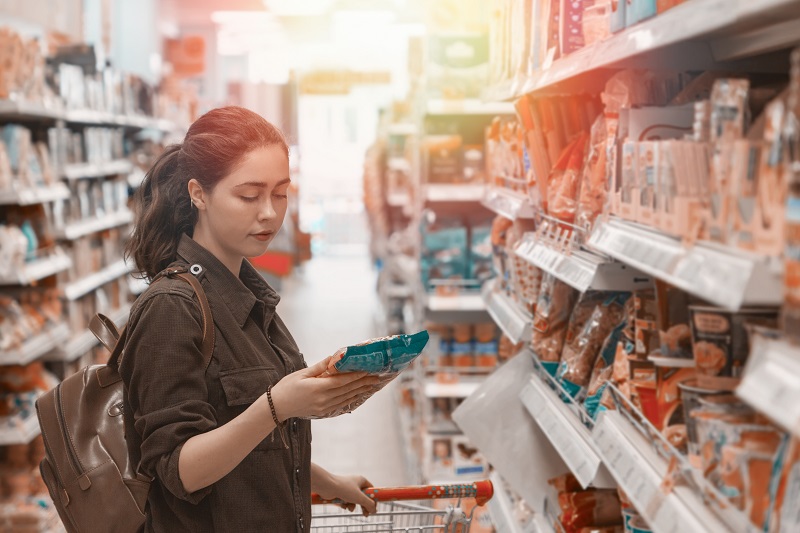 There are many people who suffer from food allergies and food hypersensitivity.  Some who consume a food product that contains an allergen will suffer severe allergic reactions that can sometimes be fatal.
Such was the case with Natasha Ednan-Laperouse, a teenager who had an allergic reaction to a Pret a Manger baguette and died from the complications in 2016.  The baguette she ate did not have allergen information displayed on the packaging label.
As of October 1st, 2021 the UK has enacted a law requiring the labels of prepackaged for direct sale (PPDS) foods to include allergen information.  This new law known as "Natasha's Law" after Natasha Ednan-Laperouse, changes the requirements to ensure that PPDS food packaging contains a full list of ingredients and allergens.
This law is now in affect as of 1 October 2021 in the UK in Wales, England, and Northern Ireland.
What is Natasha's Law?
Natasha's Law is a new law that takes effect in the UK in October 2021 that requires all PPDS foods to be labeled with a complete list of ingredients.  The law also requires labeling to highlight any of 14 different allergens that the food product contains.
With this law, the Food Standards Agency (FSA) hopes to make the UK the safest place for those with food allergies and hypersensitivities.
There are around 10 people per year who die from allergic reactions to food allergens in the UK and the goal of Natasha's Law is to reduce and eventually eliminate these avoidable deaths.
What are Considered PPDS Foods?
Prepackaged for direct sale (PPDS) foods are foods that are packaged and offered to customers in the same place, and they are packaged and presented before a customer orders or selects them.
There are three criteria used to determine if a food product is PPDS: when it was packaged, where it was packaged, and how it is packaged.
When: PPDS food is packaged before it is ordered or selected by the customer. Food that is not packaged when it is ordered or is packaged after it is ordered is not considered PPDS food.
Where: PPDS food is packaged on the same premises in which it is offered or sold to customers. This includes food packaged and sold by a business at a temporary or mobile site, and foods packaged and offered in multiple places within one building complex like an airport.  Foods sold through distance selling, meaning sold over the phone or internet, already must include allergen information before it is ordered and when it is delivered, so these products are not affected by the new law.
How: Foods are considered PPDS if the packaging meets the following criteria: food is fully or partially enclosed, food cannot be altered without opening or changing the packaging, and food is ready for final sale.
What are the New Labeling Rules?
The food label requirements of Natasha's Law are simple on the surface: labels must include the name of the food and a full ingredients list that emphasizes the allergenic ingredients on all PPDS food products.
The FSA has a list of 14 food allergens that must be emphasized on the ingredient label:
Celery
Gluten containing cereals (barley and oats)
Crustaceans (prawns, shrimp, crabs, lobsters)
Eggs
Fish
Lupin
Milk
Mollusks (mussels, oysters)
Mustard
Tree nuts (almonds, hazelnuts, walnuts, Brazil nuts, cashews, pecans, pistachios, macadamia nuts, etc)
Peanuts
Sesame seeds
Soybeans
Sulphur dioxide and sulphites (if more than 10 parts per million)
Each of these 14 allergens must be emphasized meaning that they should be bolded, underlined, printed in all caps, or printed in a different color than other ingredients so that they stand out.
It is not necessary to indicate an allergen when the name of the food clearly indicates the inclusion of the allergen, like with "milk."  All food additives and flavorings must also be listed in the ingredients.
All lists of ingredients should be preceded by a heading containing the word "ingredients" and all ingredients must be listed in descending order of weight at the time the food product was made.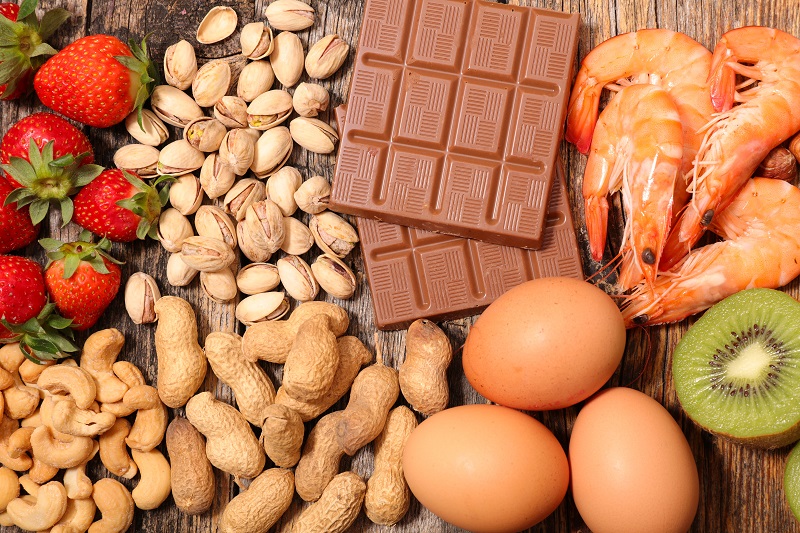 Compound Ingredients
A compound ingredient is an ingredient of a food product that contains more than one ingredient itself.
An example is the bread in a prepackaged sandwich.  The ingredients of compound ingredients must also be labeled.  In the sandwich example, this would mean that the list of ingredients for the bread should be listed after the word "bread."
Quantitative Ingredient Declaration (QUID)
Under Natasha's Law, meat products are required to have Quantitative Ingredient Declaration (QUID) to let consumers know the percentage of a meat ingredient.
The QUID must be presented in one of two ways:
Pork (80%)
Containing 80% pork
Exemptions from Ingredients List
There are a few exemptions in which ingredients do not need to be listed.  This mainly includes fresh fruit and vegetables, as well as potatoes that have not been peeled, cut, or treated.  For these foods, existing requirements contained in food law should be followed and the presence of allergens must still be indicated.
Precautionary Allergen Information
Though not required by law, it is highly recommended by the FSA to include precautionary allergen information concerning the possible unintentional presence of an allergen.  This information should be provided if a risk of allergen cross-contamination has been identified and risk management actions cannot remove this risk.
The labeling for precautionary allergen information should use the phrases "may contain" or "not suitable for" on the packaging.  This will help those with food allergies or intolerances understand the risk.
For more about the specifics of Natasha's Law, check out the Allergen Labelling Changes for PPDS Food guide form the FSA.
FDA Food Guidance Compliance Regulatory Information

The US Food and Drug Administration (FDA) also has food allergen labeling requirements that must be followed in the United States.
According to the Food Allergen Labeling and Consumer Protection Act of 2004 (FALCPA) that is enforced by the FDA, foods that must include an allergy statement include packaged foods for sale labeled after 1 January 2006.  Single ingredient packaged foods like canned tuna also fall under this category.
All ingredients must be clearly identified and listed, and allergens must be emphasized.
As of writing, FALCPA identifies 8 food allergens that must be identified on food labels:
Milk
Eggs
Fish
Shellfish (prawns, shrimp, crabs, lobsters)
Peanuts
Tree nuts (almonds, hazelnuts, walnuts, Brazil nuts, cashews, pecans, pistachios, macadamia nuts, etc.)
Wheat
Soybean
The Food Allergy Safety, Treatment, Education, and Research Act (FASTER) signed into law on 23 April 2021 declares sesame as the 9th food allergen recognized by the FDA.  This becomes effective 1 January 2023, so sesame does not need to be labeled as an allergen until this date.
FALCPA Labeling Requirements
Per FDA allergen labeling requirements, allergens need to be included in the ingredients label in one of two ways.  The allergens can be included in the main ingredients list in parentheses after the ingredient that contains the allergen, or they can be listed after the word "Contains" in a section below the main ingredient list.
Food packaging can also include a "may contains" label but it is not required by the FDA.
In the US, facilities are expected to use good cleaning and production practices to prevent cross-contamination from allergens.
Putting a "may contains" label may stop some with food allergies from eating food, but it does not exempt a business from liability if one of these food products does contain an allergen that harms a customer.
Exemptions from FALCPA
The requirements laid out in FALCPA are enforced by the FDA for most packaged food products.
There are some foods that are exempt including meat, poultry, and egg products that are regulated by the US Department of Agriculture, alcoholic beverages that must follow labeling regulations from the Alcohol and Tobacco Tax and Trade Bureau, raw agricultural commodities, drugs, cosmetics, and most foods sold at food service establishments and retail stores that are not prepackaged.
Highly refined oils made from one of the listed allergens, such as peanut oil, also do not have to follow the labeling requirements.
How ECS Can Help with Allergen Labels
In both the UK and the US, businesses that package PPDS food products are legally responsible for ensuring that food labels contain a full ingredients list with the recognized allergens emphasized.
This makes it very important to effectively manage the labeling for your food products so that all required allergens are included.
ECS Global Inc. can help grocery stores, restaurants and cafes, hotels, and catering outlets stay in compliance with Natasha's Law and FDA allergen labeling requirements with ECS5.
ECS5 is a cloud-based software solution that can be used to print labels for PPDS foods that automatically contain the correct list of ingredients and allergens.
Within the cloud, the ingredients of each of your PPDS food products can be stored and automatically included on the label design, and the ingredients can be tagged with allergens so that they always appear on the label.
By tagging ingredients with allergens within the cloud, you will never have to worry about inaccurate labeling, even as the ingredients of a product change.  The labels within ECS5 will change automatically to reflect the updates in ingredient and allergen information without the need to redesign the label.
In both warehouses and retail stores, you can use ECS5 to update product information not just on product labels, but also across signage, shelf labels, POS terminals, and active promotions.  This ensures that no errors will be made regarding pricing and product descriptions and can successfully communicate to customers the presence of food allergen ingredients and other disclaimers.
Natasha's Law is now in effect in the UK as of 1 October 2021.  Talk to our professionals at ECS Global Inc. to learn more about how ECS5 can keep you in compliance.